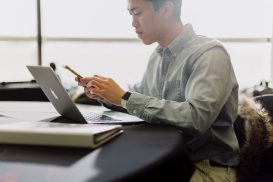 Race, ethnicity and country of origin are immutable characteristics. Individuals cannot alter the circumstances of their birth. Nor should anyone in the United States — a nation built by immigrants from all over the world — be made to feel unworthy because of those circumstances. That's why California and Federal law prohibits discrimination based on race or national origin during any part of employment, such as hiring, firing, pay, job assignments, promotions, layoff, training, fringe benefits, and any other term or condition of employment. 
California's Fair Employment and Housing Act (FEHA) makes it illegal for an employer to discriminate against an employee or job applicant on account of that person's race or national origin. Additionally, the Immigration Reform and Control Act of 1986 makes it illegal for an employer to discriminate based on an individual's citizenship or immigration status in employment (although an employer may request documentation to show employment eligibility – ex., Form I-9). Discrimination based on affiliation with such a person is also illegal, as is retaliation for complaining about race or national-origin based discrimination.
Race and national-origin based employment discrimination involves treating people unfavorably because of their race or national origin, or because they appear to be of a certain race or national origin. It can take on many forms, from subtle to overt. Subtle forms of discrimination include a lack of training and mentoring, undesirable work assignments, excessive performance monitoring, denied promotions, and marginalization in the workplace. More obvious forms of discrimination include inappropriate racial remarks, perpetuation of racial stereotypes, racial profiling, comments about a person's accent or ethnicity, and racial or ethnic slurs, which can come from a supervisor, co-worker, client or customer, or any other employee in the company. Firing a current employee or refusing to hire a qualified applicant due to that person's race or color are also examples of discrimination. 
With the proliferation of the phrase "China-Virus" to describe COVID-19, workplaces around the country are seeing an uptick in anti-Asian sentiment. This is dangerous and lays the groundwork for a hostile work environment. From "off color" jokes to workplace bans, xenophobia has no place at work. Discrimination and xenophobia don't only come from the top down, and are actionable regardless of where they originate.
If you believe you are being treated differently because of your race or ethnicity, we can help. Call the Law Office of Jeannette A. Vaccaro at (415) 444-5800 or visit www.jvlaw.com to set up a free consultation.
The following two tabs change content below.
The Law Office of Jeannette A. Vaccaro
Jeannette A. Vaccaro is a zealous advocate, representing employees in all facets of employment law.
Latest posts by The Law Office of Jeannette A. Vaccaro (see all)